Should you?
Why?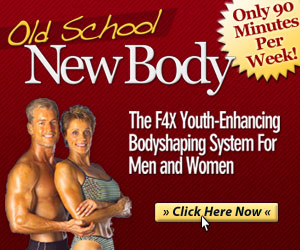 and How?
Those the are most common questions I get.
Is weight lifting after 50 years appropriate? Should you do it?
Why should you do it?
It is the best way to slow down (and even reverse) aging. Bar none. Including drugs.
How do you do it? How should you train for maximum gains after 50 years old?
This post shows one way to do it – how weight lifting after 50 can be done, step by step.
This is a review of Old School, New Body
Old School, New Body (OSNB) is an information product (digital download, i.e., e-book) aimed at getting you fit through weight training and good nutrition.
It's a excellent product for weight lifting after 50 years old. The author, Steve Holman is over 50 and he and his wife both document their results using the strategies in the program.
It closely mirrors my beliefs for training and lifestyle stuff so I highly recommend this product. It's a great buy at $20.
Let me walk you through what you'll get when you purchase it.
What's in Old School, New Body?
Here's the list:
Old School, New Body ebook. This is the main program.
Quick Start guide.
Fat Burning Secrets ebook
Muscle building Secrets ebook
Sex & Antiaging Secrets ebook
Happiness Secrets ebook
Book on Arthritis (except not really free, see below)
and then 5 audio interviews with different fitness people
So, a lot of secrets are divulged, apparently. And they throw in a little sex stuff too.
They give you a lot of stuff as bonuses to push you over the buying edge, so to speak.
It doesn't mean the information isn't valuable. These guys provide a lot of usable and practical value as far as I can see. A lot of extras.
In this review, however, I am just covering the OSNB ebook and the Quick Start Guide.
This is the meat and potatoes of the program.
---
---
First, A Summary Review
Pros
Focus on strength as the foundation of their training-Same as Old Spartan Fitness
Focus on eating real food as their nutrition foundation-Same as Old Spartan Fitness
Three fitness programs for different levels- nice for progression
Focused on Time Under Tension (TUT) as a main exercise strategy. This is well known, highly researched and effective strategy for training.
A lot of exercise variety. The higher level workouts are more like bodybuilding training than strength focused training. Still good stuff but a lot of single joint, muscle popping movements in addition to the basic compound lifts. You'd most likely need to train at a commercial gym to access the equipment needed for many of these exercises.
A dumbbell specific workout (entire chapter) for on the road or effective home gym training. This is great for weight lifting after 50.
A lot of intensity boosters to increase the effectiveness of the program even further
This is a text based training program so if you learn by reading (and photo's), it is a good format for you. If you like video based training better, try this program.
A lot of extra stuff like:

Section on motivation and habits (Chapter 4)
Transformation tips
Printable workouts
Some pretty good stuff on diet and eating, even some recipes
---
---
Cons
Some hyperbole like in Chapter 1 where the subtitle is "Turning Fat into Muscle."

Now let's be clear. Fat is fat. Muscle is muscle. One does not turn into the other. Ever. They are two different cells.
In their defense, as you read this chapter, they are talking about their Time Under Tension strategy for building muscle and getting fit. And I believe they are simply trying to convey that their FX4 strategy is so effective "it will appear" as if your fat is turning into muscle, i.e., you're losing fat while gaining muscle.
Again, Time Under Tension is a very good strategy for weight lifting after 50 years old. You get a great pump without loading up with super heavy weights.

Chapter 3 gets into Joint Rejuvenation and talks a bit about inflammation from diet. Good stuff.

But the crux of this chapter is about using specific exercises and movements to solve mobility and joint pain problems. Now these exercises are certainly beneficial but to suggest they'd solve your specific pain issue seems like going a bit too far.
All shoulder problems or low back problems certainly do not stem from the same cause. So while providing some good exercises aimed at rehab, I think prescribing antidotes without knowing the true root causes is stretching your capability a bit.

A free arthritis book is offered as one of the bonuses for buying this program. But it's not free. It ends up being "you pay for shipping" which essentially buys the book.?Seemed a little smarmy.
Some "Bro Science" claims like "eating 6 small meals" and "don't eat after 8 pm" and "zig-zagging your carb intake" as effective fat loss tools.

There is even a paragraph claiming that pro basketball players are "not shredded, that they carry a layer of fat on them" because they eat a lot and don't time their meals properly. I was scratching my head. Have you seen LeBron James or Dwight Howard with his shirt off?
You may know that I see these types of things as tactics that may help you eat less (but may not). There is no intrinsic magic in doing any of these things.

There is some stuff on Supplements that I wouldn't necessarily jump on. Again some "Bro Science" here. Not all of it. Most is sound but some is on shaky ground. I'd go to Examine for my bias-free, science backed, supplement info.
---
---
A Quote from Inside the Program
---
---
Kind of graphic right?

I wrote a blog post about this very subject.

I referred to it as

The Waterfall Life vs The Alpine Slide

.

You have to read it to get the connection.

Trust me, the Waterfall Life is better.

Get this program if you want to live the waterfall Life.
---
---
The Sales Process
What to expect when you buy this program. The mechanics of buying on the web.
Sales Page
When you first click the link for Old School, New Body, you'll go to what is commonly referred to as "the Sales Page." This page is actually several pages where you'll be presented with what's in this product and why you should buy it.
OSNB is sold by John Rowley who has a pretty big presence in the health and fitness market. You'll also see Steve Holman as the "main actor" in the product. He also is a fitness professional and obviously he and John share in the revenue generated by this product.
Here is the first page you'll see when clicking the OSNB link.
It's sold on Clickbank
Clickbank is a digital products storefront, similar to Amazon, except only digital products are sold there. So if you purchase the product by clicking the link at the end of the sales page, you'll get a confirmation from Clickbank.
It looks like this.
---
---
And then (or simultaneously) you'll get a download link for your new product from the John Rowley company.
It looks like this.
---
---
And now you're back to the seeing the pages shown at the top of this article. The one showing the picture of the ebook cover and list of stuff you just purchased.
Weight Lifting After 50
If you want get in shape fast, build muscle and trim fat, weight training is the way to go.
Old School, New Body is an effective, step by step training program. A great deal at $20.
What do you think?
Was this review helpful? Do you have any more questions about this product? Post your reply in the comment section below.